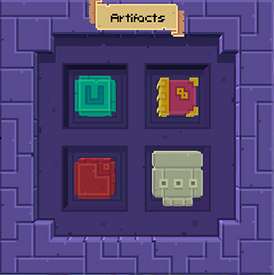 There is a total of four artifacts that can be found in FEZ:
The Writing Cube
The Counting Cube
The Tome Artifact
The Skull Artifact
The artifacts serve little to no purpose in the game, other than for vague clues and achievement hunting. The writing and counting cubes show zuish letters, and numbers on each of the six sides. 
The Writing Cube
Edit
The six sides of the writing cube are the six symbols used in the Zuish language. Rotating it at different angles would allow one to see all 24 possible letters.
The shown sides spell out: paeb
The Counting Cube
Edit
The Counting Cube has all six possible configurations of lines on its six sides. By rotating it at different angles, one could show every possible way of representing the numbers 1 through 10 using the Zuish numeral system.
The numbers on the shown sides are: 1, 4, 6, 5
The tome has the appearance of a very thick book, with a red cover and golden inbound and corners. The symbol representing the third dimension is on the cover in gold.
Inside is a jumble of letters in Zuish script, that when read three-dimensionally, decodes to a poem:
FROM OUT OF NOWHERE 
IMPOSSIBLE VISITORS 
OUR BENEFACTORS 
WATCHING OVER US 
IN THE HIDDEN FOLDS OF SPACE 
IN FRONT OF BEHIND 
GIVE THE GOLDEN GIFT 
A DEEP REVELATION 
OUR EYES WIDE OPEN 
SHAPES TO TESSELLATE 
WITH SACRED GEOMETRY 
AN EMPIRE TO BUILD 
A NEW PERSPECTIVE 
THINGS UNSEENS BUT ALWAYS THERE 
A NEW DIRECTION 
THE HEXAHEDRON 
THE SIXTY FOUR BIT NAME OF GOD 
THE POINT OF ORIGIN 
A PATTERN A CODE 
A DEEP UNDERSTANDING 
A GATE TO THE STARS 
ALL OF TIME AND SPACE 
AND THE SPACE OUTSIDE OF SPACE 
WHERE DOES IT END
The Skull
Edit
The skull artifact is a skull-shaped object with what appears to be three eyes. Four maps that show the correct doors and a key is needed for obtaining the skull artifact.
Community content is available under
CC-BY-SA
unless otherwise noted.